Produced by millions of tons each year, ammonium nitrate, of which the explosion of a stock of 2,750 tons devastated Beirut on Tuesday, August 4, killing at least 100 people and injuring 4,000 according to a provisional assessment of the Cross- Lebanese red, is a nitrogen fertilizer widely used throughout the world in agriculture. It is also commonly used as an industrial explosive, mixed with fuel oil. A "recipe" taken up by American extremist Timothy McVeigh to make the bomb that killed 168 people in Oklahoma City on April 19, 1995.
Usually stable, this substance, also known as ammonitrate, however, requires some care in storage due to its explosive potential. Under the effect of a high temperature (at least 210 ° C), this fairly dense solid suddenly decomposes into different gases in a reaction that releases an immense amount of energy and creates a shock wave with this monstrous blast effect as shown by the videos taken in the Lebanese capital. The reddish cloud observed shortly after the explosion is characteristic of nitrogen oxides which, in high concentrations, can cause irritation.
In Beirut, the trigger is probably to be found in the fire that preceded the explosion in the port. The scenario would then be very close to that of the first known disaster involving this fertilizer, which dates back to April 2, 1916. That day, in Faversham (United Kingdom), a fire had taken place in the blowing snow of a munitions factory. and blew up a supply of TNT and ammonium nitrate, killing 115 people, including the entire fire brigade fighting the blaze at the time of the detonation.
Read also
"It looks like a war zone": Beirut devastated by a deadly double explosion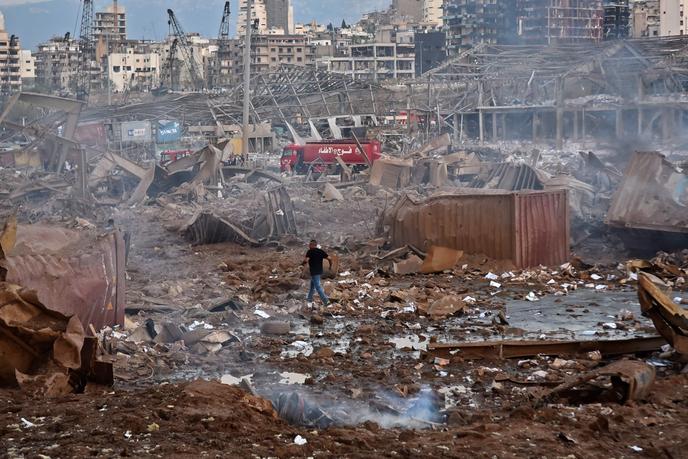 A long list of catastrophes
Five years later one of the two deadliest explosions to date (in the absence of a definitive toll in Beirut) occurred due to ammonitrate. It happened at the BASF plant in Oppau, Germany, when, wanting to break up a block of several thousand tons of ammonium sulphate and nitrate that had crusted over it, the engineers used dynamite, as they did. used to. Usually the mixture of ammonium sulphate and nitrate prevented a cataclysmic reaction, but this was not the case this time and about 500 people were killed on September 21, 1921. The explosion was heard in the east from France and to Munich, some 300 km from Oppau. A toll of the same magnitude was to be deplored in 1947 in the American port of Texas City (United States), following the explosion of nearly 2,100 tons of ammonium nitrate in the French cargo ship Grandcamp.
The list of disasters due to this fertilizer is unfortunately long and notably includes that of the AZF factory in Toulouse on September 21, 2001. For reasons that neither the investigations nor the various trials have completely elucidated, the explosion of a stockpile of around 300 tonnes of ammonitrate caused the death of 31 people.
Article reserved for our subscribers

Read also
The slow reconversion of the AZF site in Toulouse, 18 years after the explosion