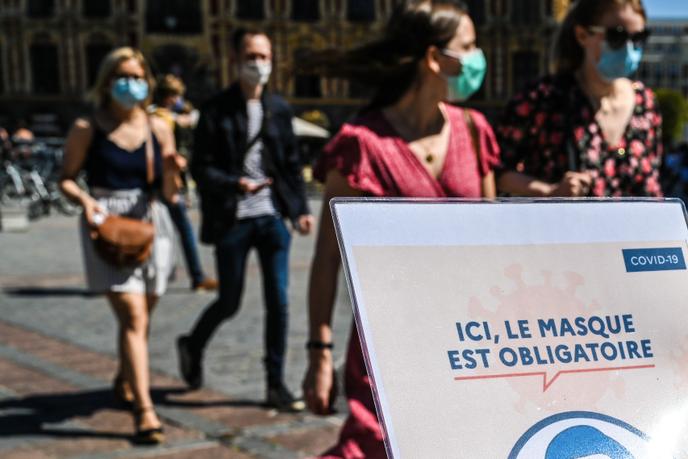 The prefect of the North announced on Friday July 31 that wearing a mask would be compulsory in public spaces from Monday in "A certain number of zones" in the metropolis of Lille, due to an upsurge in the epidemic. Pedestrian streets, outdoor markets and green spaces in particular will be affected by the obligation to wear a mask.
Since Friday, a decree authorizes the prefects to make the mask compulsory "When local circumstances so require", "except in living quarters". In the morning, the Minister of Health, Olivier Véran, explained that this measure applied to "Open public places". "This decision can be made locally, depending on the evolution of the epidemic in each territory," he added on Twitter.
The objective of the measures taken in the Lille metropolis is "To impose so as not to re-limit", the prefect of the North, Michel Lalande, said at a press conference in Lille. The prefectural decree will be "Valid for one month" and "Renewable". Any violation will be punished with a fine of 135 euros.
Article reserved for our subscribers

Read also
"A euro a piece is overpriced": households faced with the "mask budget"
An "upsurge" of the epidemic
The ban will apply indoors "From a number of areas", as "Permanent or temporary pedestrian zones", "Areas where road traffic is limited to 20 km / h", those "Which are characterized by very high attendance by the public", such as certain shopping streets in Lille, or even "All urban green spaces, including the edges of rivers". "We are moving from insistent suggestion to mandatory imposition", summarized the prefect.
At his side, the director of ARS Hauts-de-France, Etienne Champion, reported "Indicators" testifying to a "Recrudescence" of the Covid-19 epidemic in the metropolitan area, which has a population of 1.2 million. Local indicators show a progression of the epidemic in the metropolis, where "The incidence rate reached 31 per 100,000 inhabitants, compared to 17 the previous week", notes the director of the ARS.
In the "Heart of the metropolis" this rate is even "Around 40, even closer to the alert threshold", set at 50. An increase in these indicators was also measured for the entire Nord department, classified in the so-called "Moderate vulnerability", but in a lesser proportion.
Article reserved for our subscribers

Read also
Coronavirus: the resumption of the number of positive cases in nursing homes, a "worrying signal"